The completely renewed Epassi app enables paying golf green fees, massages or movie tickets with Finnair Plus points
Kirjoittanut Lasse Saari
Epassi, mobile payments platform and the Nordic market leader in employee benefits, has today launched a unique collaboration with Finnair.
Any Finnair frequent flyer program member can now (as of October 27th, 2021) pay for services with Finnair Plus points at Epassi's more than 27,000 sport, culture and wellbeing sites around Finland.
Payments are made using the Epassi mobile app at the checkout of the chosen site. Epassi app is free to use and it is downloadable at Apple and Google app stores
The collaboration will be further expanded to include thousands of restaurants towards the summer of 2021.
| | | |
| --- | --- | --- |
| Service | Price with Finnair Plus points | Merchant example |
| Swimming hall visit | from 2,000 p. | Mäkelänrinne Swimming Hall |
| Spa visit | from 3,000 p. | Allas Sea Pool |
| Movie ticket | from 3,500 p. | Finnkino |
| Tennis, padel, et al. | from 9,000 p. | Talin tenniskeskus |
| Gym, monthly fee | from 11,600 p. | Liikku kuntokeskus |
| Zoo visit | from 11,600 p. | Ähtäri Zoo |
| Massage | from 14,000 p. | Suomen Urheiluhierontakeskus |
| Golf green fee | from 16,000 p. | Kurk Golf |
| Dental examination | from 24,000 p. | Terveystalo |
Editor's picks
from services payable with Finnair Plus points using the
Epassi
mobile app
Epassi and Finnair expect the service to gain popularity among a vast group of Finnair Plus members gradually as the pandemic restrictions are expected to decrease during the spring and summer. Summer activities such as golf, outdoor swimming pools, tennis, padel and other ball games, museums and cultural sites, as well as more than 3,000 available masseurs from all over Finland, are expected to gain the greatest popularity. For Finnair Plus members, this will significantly expand the possibilities to use the points.
Payments made easy

–

new app re

designed with

Rea

k

tor
The entire user interface of the Epassi mobile application was redesigned. In the past, the app could only be used by employees of companies offering employee benefits with Epassi. Now any Finnair Plus member can download the Epassi app and join in.
"We wanted to welcome hundreds of thousands of new Epassi users to our service with a high-end user experience that is the last rallying cry. We partnered with Reaktor, who have fresh experience of successful service design with companies such as Adidas and Supercell. We are very satisfied with the first results and believe that the ease of use of our versatile mobile app will further strengthen our position as the largest player in the Nordic market." says Pekka Rantala, CEO of Epassi.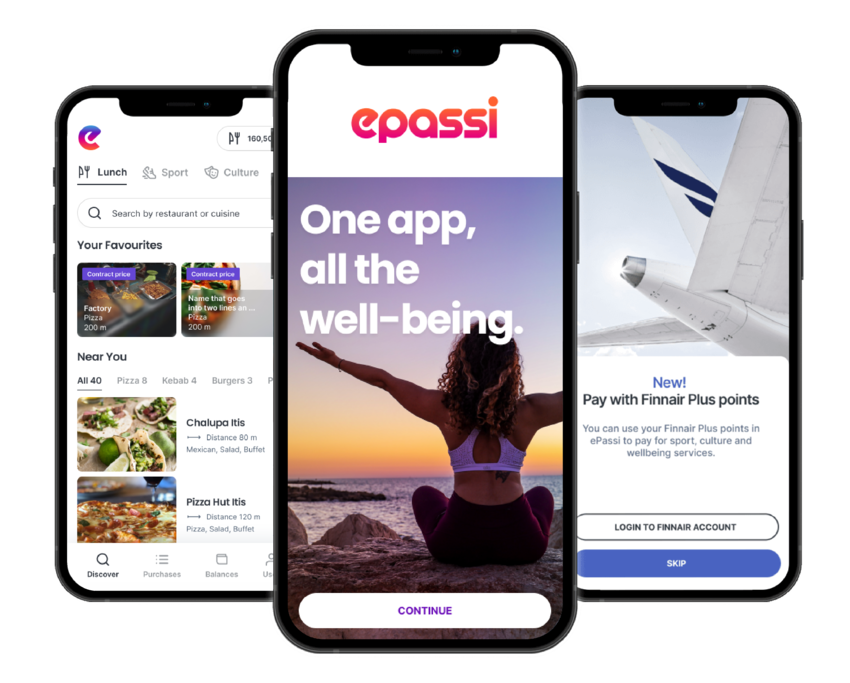 Finnair Plus points can now be used to pay with the Epassi app at the checkout.

For Finnair Plus members, cooperation brings an easy-to-use way to utilise Finnair Plus points for everyday experiences.
"There's a Finnair Plus member in every household in Finland and we want the programme to be relevant beyond flying. Epassi's coverage across the country allows us to achieve that with ease.
This partnership is all about making Finnair Plus points much easier to use in an everyday life context, especially on smaller purchases, and Epassi works with merchants of all sizes.
It's such an exciting opportunity for Finnair Plus members, because wherever you are in Finland you'll find nearby services you want to use or that you're using already." says Karolina Baszarkiewicz, Head of Loyalty at Finnair.
Loyalty benefits

going

mobile
Cooperation between the mobile payment service and an airline's loyalty program is unique even on a global scale. The addition of loyalty systems to the respected payment applications is a natural match for Epassi, which was the first to take employee benefits to mobile.
"The arrival of loyalty programs for mobile payments is one of the emerging trends worldwide. People still value customer benefits and rewards but are increasingly reluctant to carry cards or paper vouchers with them. Several service providers have also stopped accepting paper payment options altogether." Rantala says.
Epassi, operating in Finland and Sweden, currently has 1.5 million users and 35,000 merchant sites in the Nordic countries.
More information
Pekka Rantala, CEO of ePassi, 040 505 1970, pekka.rantala(a)epassi.com
Ilona Ryödi, Finnair's Partner Manager, Ilona Ryodi(a)finnair.com
More information for consumers at ePassi.fi | More information for consumers at Finnair.com
Images available for media
Pictures of the Epassi app (open)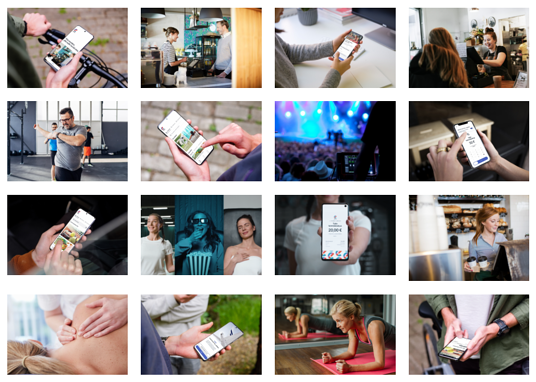 Finnair Image Bank (free registration)
Epassi in brief
Epassi Payments Oy, founded in Helsinki in 2007, is the market leader in mobile payments for employee benefits. A unique solution combines all the benefits into a single mobile app. Epassi now serves more than 35,000 service providers, nearly 9,000 employers and nearly 1.5 million employees. Epassi is the leading fintech company in the Nordic countries, awarded by the Financial Times as one of the fastest growing companies in Europe. www.epassi.fi

Finnair in brief
Finnair is a network airline specialising in passenger and freight transport between Asia and Europe. Helsinki's geographical location gives Finnair a competitive advantage, as the fastest connections between several European destinations and Asian megac cities cross Finland. Finnair is the only Nordic 4-star network airline in the Skytrax classification and a member of the Oneworld Alliance. In 2019, Finnair's net sales were EUR 3,098 million. and the number of passengers eur 14.7 million. Finnair Plc's shares are listed on Nasdaq Helsinki.